Design your ideal getaway to Aspen, Colorado
The snow-topped peaks of the Maroon Bells herald your approach to Aspen. Maroon Peak and North Maroon Peak in the Colorado Rockies anchor a blissful panorama of color that changes with the seasons. Although Aspen is an all-season paradise where visitors can revel in natural splendor and fresh mountain air, it is the winter that draws most visitors to this mecca of the skiing set. With four world-class mountains towering above the landscape, Aspen boasts the most diverse selection of terrain in the state—perfect for downhill skiing, snowboarding and other snow-related activities. But Aspen is so much more than skiing, and offers everything from outdoor adventures and breathtaking sights to world-class shopping and dining, plus cultural events to rival any big city.
During the summer months, the area invites hikers, mountain bikers, kayakers and rock climbers to explore its wonders. Come autumn, miles of golden aspen trees stretch as far as the eye can see. Photography enthusiasts will have endless opportunities to take stunning vacation pics. Get an even higher perspective while hot air ballooning or paragliding for sweeping vistas of this breathtaking landscape.
THINGS TO DO IN ASPEN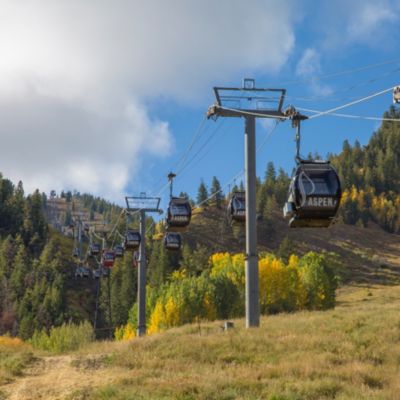 Silver Queen Gondola
Travel 12,000 feet to the top of Aspen Mountain for breathtaking views of the surrounding area. A 14-minute ride takes you to the site of the world's highest disc golf course and dining at 11,200 feet in the air.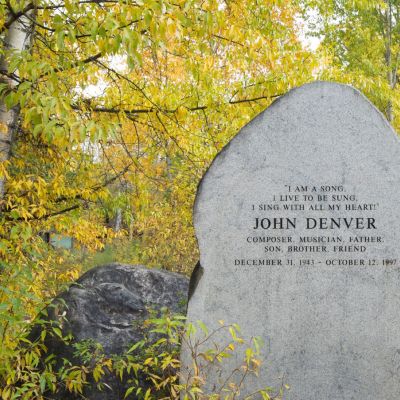 John Denver Sanctuary
Experience the serenity of this outdoor sanctuary in the heart of Aspen, where massive boulders etched with lyrics by this late, great musician stand along walkways lined with seasonal flowers.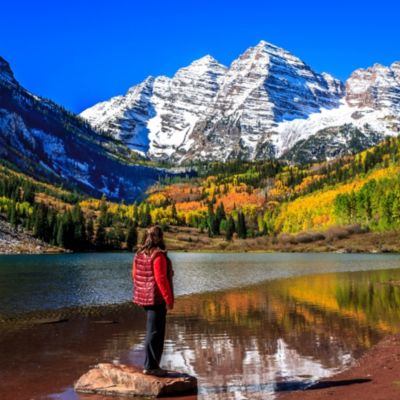 Maroon Bells
These rust-colored mountains in the White National Forest tower 14,000 feet above Maroon Valley and offer six hiking trails to explore the most photographed place in Colorado.
AREA MAP
Club Resorts are typically developed and/or managed by the Bluegreen family of companies. Each resort is held to the high Bluegreen standards for accommodations, amenities, service and hospitality.