BLUEGREEN VACATION CLUB
The Bluegreen Vacation Club provides access to a collection of unique, locally inspired resorts that span across popular vacation destinations. These resorts offer an array of accommodation types ranging from condominium style units to rustic yurts, cabins, multi-bedroom homes and everything in between.
Flexibility & Choice
A flexible, Points-based system gives our owners the freedom to choose a different vacation experience each time–from sun, sand and sea to mountains, snow and ski and everything in between.
Destinations You'll Love
We empower our owners to create their own vacation experience from 40+ diverse vacation destinations across the U.S. and Caribbean. Choose from dreamy seaside escapes, invigorating mountain stays, relaxing golf getaways, historic destinations, iconic entertainment capitals and more.
Space and Comfort You Deserve
Our spacious and well-appointed accommodations include full kitchens and baths, separate living and dining areas plus resort amenities like oversized pools, on site dining venues, exercise rooms and more.*
Unforgettable Experiences
Our purpose is to provide our owners and guests with a great vacation experience, every time.
Worldwide Resort Access
Through our alliances with RCI® and Choice Hotels®, Bluegreen Vacations provides owners with even greater value by offering expanded vacation options across the U.S. and around the world.
*Amenities may vary by resort.

The Bluegreen Difference
From spacious villas and oversized resort pools to unique accommodations with all the comforts of home, the Bluegreen difference is clear from the moment you're warmly welcomed at one of our beautiful resorts.
Unique Resort Accommodations
Our resort accommodations are as unique as our destinations, ranging from modern yurts and cozy cabins to historic inns, plus individual homes and Presidential Suites perfect for larger families, reunions or special event vacations. Each features amenities designed to make our owners feel right at home.
Quality and Value
While our owners appreciate the diversity of our destinations and the uniqueness of our resorts, they also trust the consistent high quality and value that our vacations deliver. They know that when they book their next Bluegreen vacation, they will be enjoying the same high standards of service, cleanliness, attentiveness and comfort that we continuously deliver.
Why Vacations Matter
Did you know that vacations can actually help improve your health and make you feel happier and more energized? That's because vacations are about new experiences. They take you away from home and work and the same old routine, They provide a physical and emotional reset by exposing you and your loved ones to new and exciting places, people and experiences. And most importantly, they help strengthen family bonds and provide a lifetime of cherished memories.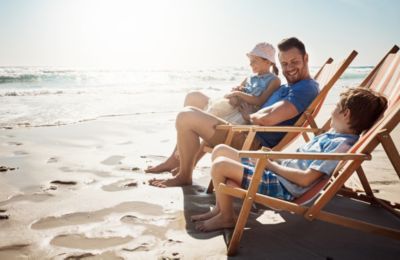 We Deliver a Better Way to Vacation
At Bluegreen Vacations, we're in the business of creating lasting vacation memories. Our purpose is to provide our 220,000+ owners with a great vacation experience, every time. We fulfill that purpose by going above and beyond to deliver the unexpected, and by putting the needs of our owners and guests first.