Golf
Great golf vacations are par for the course
You've got your clubs, bag, balls, maybe some stylish new golf shoes—now what? How about a golf vacation? Naturally, Myrtle Beach is among the first destinations to come to mind. And as a Bluegreen Vacations owner, you'll have a nice variety of resorts convenient to your dream list of courses. But Florida's reputation as a golf haven shouldn't be ignored, and a stay at Bluegreen Vacations' Grande Villas at World Golf Village® demonstrates why. Meanwhile, Las Vegas and courses near Peoria, Arizona, set the standard for desert golf while there are many underpublicized destinations offering great golf as well—Wisconsin Dells, Boyne Falls, Michigan, and Ridgedale, Missouri, to name a few. If you're looking for a golf getaway, Bluegreen Vacations will keep you on course.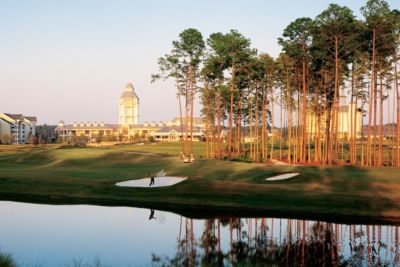 Tee off straight down the middle in St. Augustine, Florida
Florida is home to many of the best pro golfers in the world. It's home to the headquarters of the U.S. professional tour. And not far from the PGA Tour offices in Ponte Vedra Beach, it's also home to the World Golf Hall of Fame in St. Augustine. But Grande Villas at World Golf Village®, site of the hall, offers golfers more than the mere opportunity to pay homage to the greats of the game. Learn More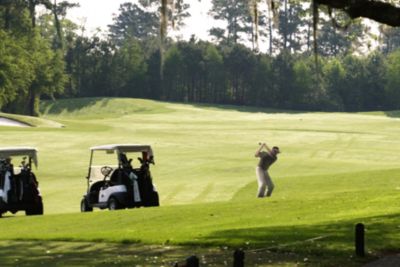 Land your approach pin high in Myrtle Beach, South Carolina
Why is Myrtle Beach such a popular golf destination? There's a plethora of challenging courses – the sand here isn't only beachfront – designed by some of the biggest names in the game. There's genial weather from early spring to late fall. And when you add the Southern charm and amenities for which the city is known, you begin to truly understand.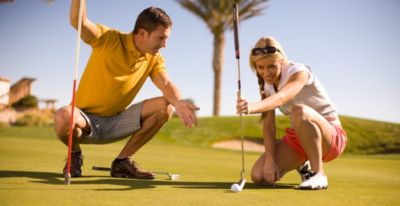 Roll in a 15-footer for birdie in Las Vegas, Nevada
Desert golf is an experience you shouldn't miss whether you're a scratch player or a 20-plus handicapper. And not far from the Las Vegas Strip you'll find top-notch courses that epitomize desert golf. No matter how far you hit, how well you putt or how many courses you've played, you haven't played golf until you've teed it up under the hot, dry sun of the Wild West. Learn More